I am forcing myself to finish up a bunch of projects that I have abandoned somewhere along the way. Its tedious. Most of the projects were ditched for fairly justifiable reasons, but they are taking up project bags and yarn and needles so I placed on momentary moritorium on yarn buying until I get some stuff finished. So in the spirit of forced knitting, I am finishing up a boring ol' pair of socks that I started about a year ago and then hid at the bottom of my stash due to a misturned heel that I didn't want to rip back. Really, there is nothing great or interesting about these socks. So, here is a boring picture of a boring sock.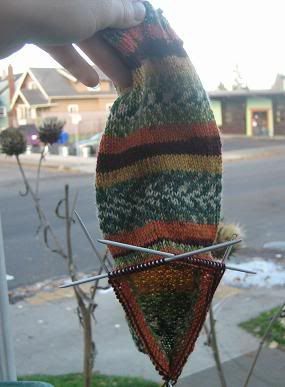 I'm almost done with the gusset now, but I'm barely plodding along. To really capture my mood about finishing them, here's a picture of the sock with our rotten jack-o-lanterns that finally got so soggy that one day they just sorta fell with a splat off the railing of our porch.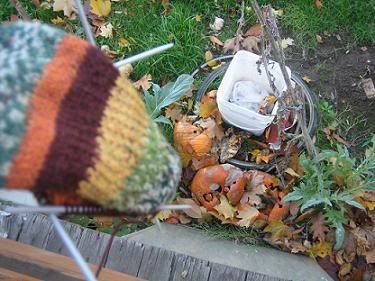 Bleh.
On an upswing, a friend of mine has a boutique down the street from my house where she sells handmade art, crafts, clothes and jewelry. She's asked me if I'll knit some stuff up for her to sell in the shop. I'm terribly ecstatic about this. It is probably one of the best compliments my knitting has ever recieved. Alberta Street has an event called Last Thursday, which is a sort of street fair of handmade goods and debauchery that happens, as you can probably guess, on the last Thursday of every month and she asked if I could get some stuff to her by then. Thats a mere two weeks. Sure, said I, boldly and ridiculously. I'm foolishly confident sometimes.