This past weekend I went to the annual Rose City Classic dog show. Jack and I have been taking an agility class, and my mum and I went to go see our trainer compete in the agility competition. Naturally, I took the sock, but alas, didn't get much completed. The good news is that I did finish the horrible, god awful, sent-from-hell ribbing at the top and moved on to the 'tube' of the sock. Here's the sock in front of the course that Jane and Jamaica competed on: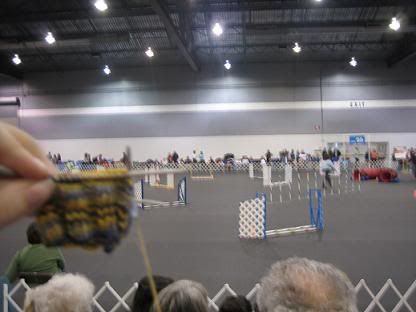 And here's Jane and Jamaica going so friggin' fast that they are just a blur as they go running by us:
Let me tell you, they were awesome! Its awesome to watch a team that is so well coordinated they already seem to understand one another without the type of yelling that usually marks Jack and I trying to make it over the obstacles (and my knitting as well).