Keri is a speedy f-ing knitter. In the time that I knit 3/4 of an inch of ribbing and about 3 inches of sock, she had 2 socks down to the heel completed. The lucky gal, she gets to knit at work. Keri took my sock class with me, making her project out of some lovely purplish-blue and green (I think) yarn that striped diagonally, which was a surprise to all of us, Keri most of all. It was also Keri's birthday last Tuesday. She brought us chocolate, and we sang her happy birthday, where she blushed suitably, though I think she was pleased. A few birthday words about Keri:
-Keri is amazingly intelligent, although a bit ditzy. She has a double major in something bizarre like journalism and physics. Whatever it is, she blows my mind.
-Keri has a very mathematic mind. She goes crazy for mathematical knitting like moebius scarves and the like. All the stuff that usually makes me dizzy. I like that about her.
-Keri is a newlywed. She got married about 3 weeks ago. Big congrats for that too!
So here is a picture of Keri trying on her new sock (without the toe finished). I even promise not to mention the fact that she ended up with gaps in her gussets. *grin* It doesn't matter anyhow, since the quality of my camera seems to getting worse and worse. Don't bother checking your vision, you now know what everything will look like when you are 97.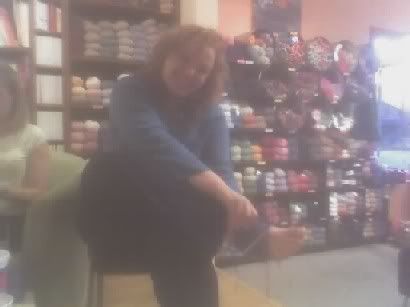 HAPPY BIRTHDAY KERI!
PS.... isn't that wall behind her just delicious?