I'm finally landed for awhile in one place. Its making me very melancholy and I fight the urge daily to hit the ground running and blow this joint. DC has limited attractions, which is my nice way of saying that I hate this city. It just doesn't suit me. I've been in Pittsburgh a fair bit lately, which is a place that I've come to love (and miss). Much more me. Think abandoned buildings, dumpsters galore, free housing, 3 rivers, bike paths, cool kids and railroad tracks. Well, I start work on Friday (selling Christmas trees! I can't tell you how excited I am. I love a weird job) and I'm hoping that when my days are more occupied I'll have less desire to flee. In the meantime I've been slowly churning away on some projects lately.
Mom's Mountain Colors hat
is finally finished.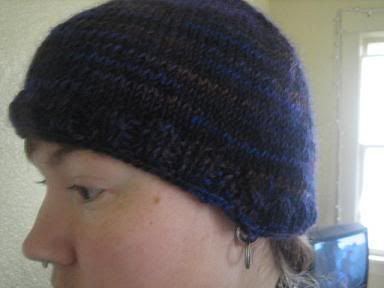 No pictures of mom in it, but from all accounts she loves it.
Also finished are new favorite knee-highs, from a pattern in my head. Made from red Soxx Appeal (my new favorite sock yarn!) with contrasting heels and toes:
And proof positive that I'm a total nerd, my Elizabeth Zimmerman seamless yoke sweater with train track design, because, you know, I just really like trains.
Just for fun, a mini sock. I really want to make a thread sock now on 0000's.
Finally, what's on the needles. The
Clessidra's
, which I have fallen head over heels for. The color of these is actually pitch black, but I'm posting an overexposed photo so that you can see the detail of the pattern.
These are my first cabling project and I'm really enjoying them. Yarn is Soxx Appeal, size 0 needles (I always go down needle size because apparently I have skinny calves and I can't stand my socks to droop).
And a project that has made me curse more times than I care to publicly admit, the Swallowtail Shawl in Malabrigo Lace. Seriously dude, I have a major brain blockage when it comes to reading these charts. I knit about 5 rows, then have to rip 3 rows back. Needless to say, progress has been slooooow. I'm a little pissy that I've been so thwarted by such an easy project.