Curious as to what happened with the sock? Well, I started knitting it with the most wonderful
Blue Moon Fiber Arts
stuff, cast on waaaaaay to many stitches, knit the most humongous sock until I had finished the gussets, frogged the sock, bought new sock yarn and started over with a brand new sock. Now if that doesn't sound like a knitter, what does? The new sock yarn I bought is a self-striper, a wool/cotton/acrylic blend. I'm just finishing the arch of the sock. Here we see a picture of the sock reposing in some grass at the local park during my lunch break today: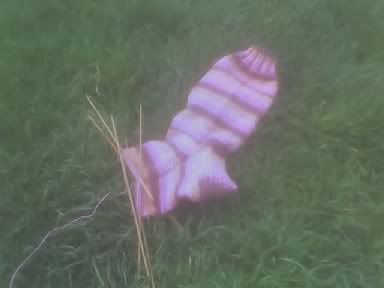 and here we see a picture of the sock on my foot: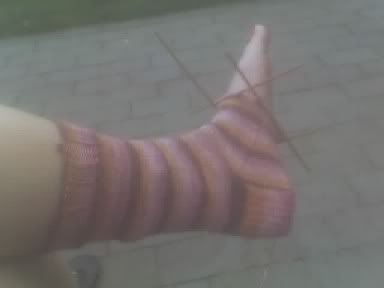 So it is official, socks are my new favorite project. I adore them. I have already bought more sock yarn. I now have 5 skeins of sock yarn.......and I haven't even completed an entire sock. If the aforementioned statement didn't sound just like a knitter, the fact that I have already bought skeins and skeins of sock yarn should.