Am I the only person who doesn't take a laptop to the cafe? I went for a cup of coffee this evening and out of 7 people in the cafe, I was the only person not staring at a computer screen. I took a dog and some knitting.
I'll take that and a cup of coffee over a computer any day of the week.
Aquisition wise....well, this is a long story but it starts with cleaning out my mom's garage, the guru coming through with a really cool gift ages ago and ends with a reavowal to organize my knitting. Awhile ago my aunt and I saw this awesome vintage knitting organizer in a magazine and I lusted for one similar to it. Lo, when Christmas came around there was one sent to me from the guru. I've had it in the garage with my yarn (gasp! yarn in a garage?!) for awhile and finally dug it out and organized it. I also put my stash into nice, clean plastic boxes, compiled all my knitting books and patterns and collected all projects, which is all for another blog. The point here is, and I say this with enthusiasm, this thing is rad. Fucking rad.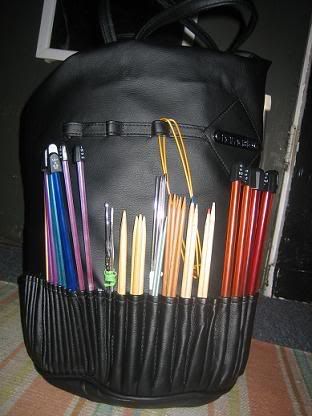 All your needles can be slipped into little pockets around the exterior, and inside is plenty of room for current projects and works-in-progress. There's even a little zippered pocket inside for small stuff.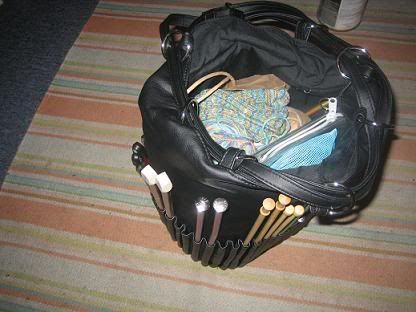 Jealous? You should be. Which provides a natural introduction to my current new cool yarn.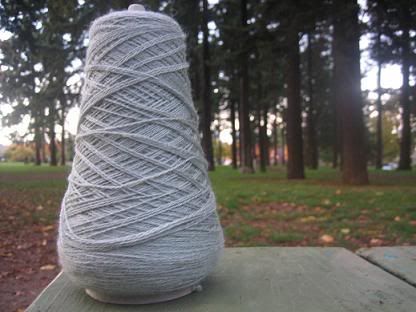 What you are seeing here, is a cone of 1,260 yards of Zephyr Merino/Silk laceweight yarn in Sage. My mom, who is undermentioned on this blog, partly out of spite for the fact that she never reads it, bought this for me while she was in Lawrence, Kansas. The Guru told her about
Yarn Barn
and she popped in to see if they had the yarn I needed to knit the
Creatures of the Reef shawl
. Right now I'm just keeping it in my room and occasionally rubbing it against my cheek. I can't find a local store that carries Fiddlesticks Knitting patterns, so I think I'll just adore it lovingly until the pattern comes in the mail. Anybody know if I need to do anything special to it since its on a cone and not already balled?