Alright, here's how I've been getting my fix as of late. Remember back in September of 2005? Don't worry, I can't either. I had to read back through my blog to remember when I first
blogged about the pink stripe socks
, the ones with the
glitch in the dye job
. Thats right, almost exactly two years ago I started what I thought would be a quick and fun sock project. Yesterday, I finally finished the fucking things. Excuse my language, I really should hold them dearer to my heart considering all the changes the socks and I have endured together. This is our 3rd house together, our 4th job together. Two years, I suppose, earns them a little more loyalty. The Guru was in town for about 10 hours. Never one to miss such an opportunity, I had her help me fix the ridiculous error that I had made (I started knitting in the wrong direction. I do this too often for comfort. I'm embarrassed to admit that I even do it in the first place.) and got me back on track. Within the night I sat down to watch
The Painted Veil
, which I highly recommend and finished the gusset, foot and toe of the second sock. Due to screwed up dye job, the stripes don't match, but I think they look pretty good regardless.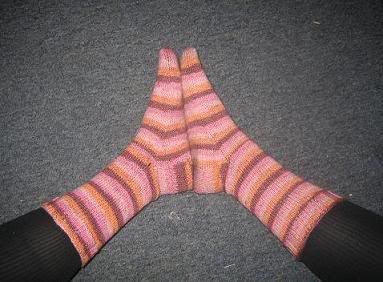 So, with one pair finished it was time for the latest fix. While on a recent trip to Whitefish, Montana, I stopped at the local yarn shop for some more souvenir yarn.
Kn it 'N Needle Yarn Shoppe
is on the bottom floor of an old house close to the old downtown of Whitefish. I was looking for a local yarn, something to remember Montana by, and I found exactly what I was looking for.
The Black Stitch
is a local Montana yarn company that makes a wool sock yarn. Alas, they are going (or maybe have gone) out of business. The stuff is great though. I decided to veer away from my traditional and over-knit basic sock pattern and try something with a little more zing. Thats right, I've gotten bored with the original stuff. It no longer gives me the same high that it did the first time I used it. I need something a little harder to try and get that feeling back again. Problem...it's not a problem. It's just a little habit.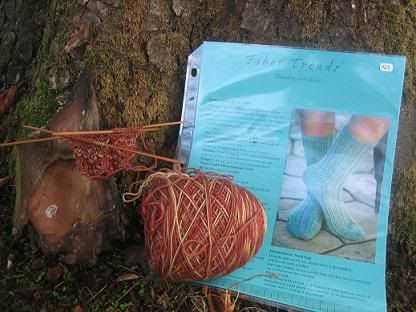 Behold, the Fiber Trends Raindrop Lace sock. The yarn I'm using is variegated in shades of brown, which I hope don't detract from the beautiful lace pattern. The picture on the pattern has it in a solid blue, which really shows off the design. I'm about 2 inches in and from what I can see, it looks like a bunch of knots and holes. If I weren't familiar with lace, I'd be concerned. I don't normally block socks, but I think for this pair I will.